Online learning or eLearning is becoming an essential part of modern education and more and more schools are implementing various technologies such as mobile learning, flip teaching, 1:1 iPad, gamification and animation into their curriculum. However, the new type of blended learning requires teachers to have the right skill-sets to direct the learners with efficiency. Teachers need to use tools deliberately and in well-planned manner to make high impacts of learning and increasing student's achievement. For example, the Web 2.0 technology allows the teachers to demonstrate knowledge through online presentations and use the class time to give more personalized instructions. Proper adaption of this "flip teaching" or "reverse teaching" concept has been proven to improve students' performance.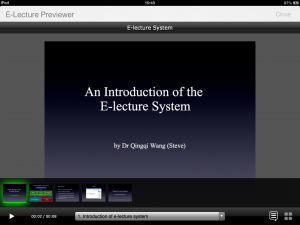 But many teachers find recording and putting lectures online is a time-consuming process and usually requires extra time or sometime need the support of other technique staffs to complete the task effectively. iPad app E-Lecture Producer offers teachers a straightforward solution to transform your existing static PowerPoint presentations or PDF slides into auto-played online presentation (HTML format) in a simple and quick fashion.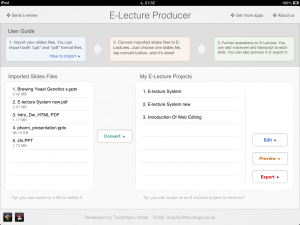 You can easily import your ".ppt", ".pptx" and ".pdf" formats of slides/presentation files from email attachments or other apps, such as Dropbox and Air Sharing. E-Lecture Producer allows you to edit the title and transcript for each slide and you can recorder voice-over slide by slide. Since each slide is edited and recorded separately, you can conveniently change the transcript and voice. When you are satisfied with your presentation, you can export it as a compressed ZIP file and save it in your Dropbox or attach it to an email. The final E-lecture presentation is server independent and can be easily deployed on the existing web servers or popular eLearning systems, such as BlackBoard, Moodle, School website etc. With an easy understanding workflow and clear "how to" guide integrated, you will start to create your online presentations within a minute. Fulfilling the miscellaneous requirements of current educators and students and perfectly interweaving the latest iPad technology, E-Lecture Producer is definitely one of the best iPad apps educational tools for teachers.
Download it for your iPad: E-Lecture Producer HD for only $2.99
Download it for your iPhone: E-Lecture Producer for only $1.99

Follow us on Twitter: @TouchApp_uk


From Mobile App development company TouchApp