As an educational transformation technology, Apple's iPad offers endless potentials and conveniences for classroom settings.  Educators are continually finding new ways to maximize the impact of iPads in different teaching and learning environments. Here, we introduce several valuable iPad accessories for teachers to expand the usability of iPads in education.
1.iPad case and screen protector
With young students, it is wise to invest in a solid iPad case to protect from breakages, dirt, water, sand and vibration. Products such as Big Grips, Griffin or Otterbox can provide durable protection against wreckage, germs, stains and oils, but also allow ease access to switches, cameras, speaker, and microphone. You probably want to take a further step to protect the iPad screen as well. Screen protectors such as Skinomi TechSkin™ use the same clear film material protected NASA space shuttles to insulate your screen from scratch.
2. Apple TV
While iPad is an impressive stand-alone device, you may want to encourage sharing and collaboration in your classroom. Apple TV in combination with iPad provides an advantageous alternative to more expensive, traditional white boards. Apple TV (£59.00) is a little black box, which can connect any iPad in the room wirelessly via AirPlay. Teachers and students in the classroom can share any content from their preferable locations of the class, thus create a dynamic and highly interactive iPad classroom.
3. Keyboard
A great keyboard can turn your iPad into an amazing laptop. You may come across different types of keyboards.  Logitech's Keys-To-Go keyboard is one of the affordable choices.  It connects iPad via Bluetooth and is powered by rechargeable Lithium-Ion batteries.  It features keys like a standard Apple keyboard and it is so thin and light and can be carried around easily. An alternative to stand-alone keyboard is a keyboard case. Logitech Keyboard Folio Case includes an embedded keyboard in a thin and lightweight protective case. With well-spaced keys, iOS shortcuts and versatile viewing positions, Keyboard Folio Case can go everywhere with your iPad and help you get more done.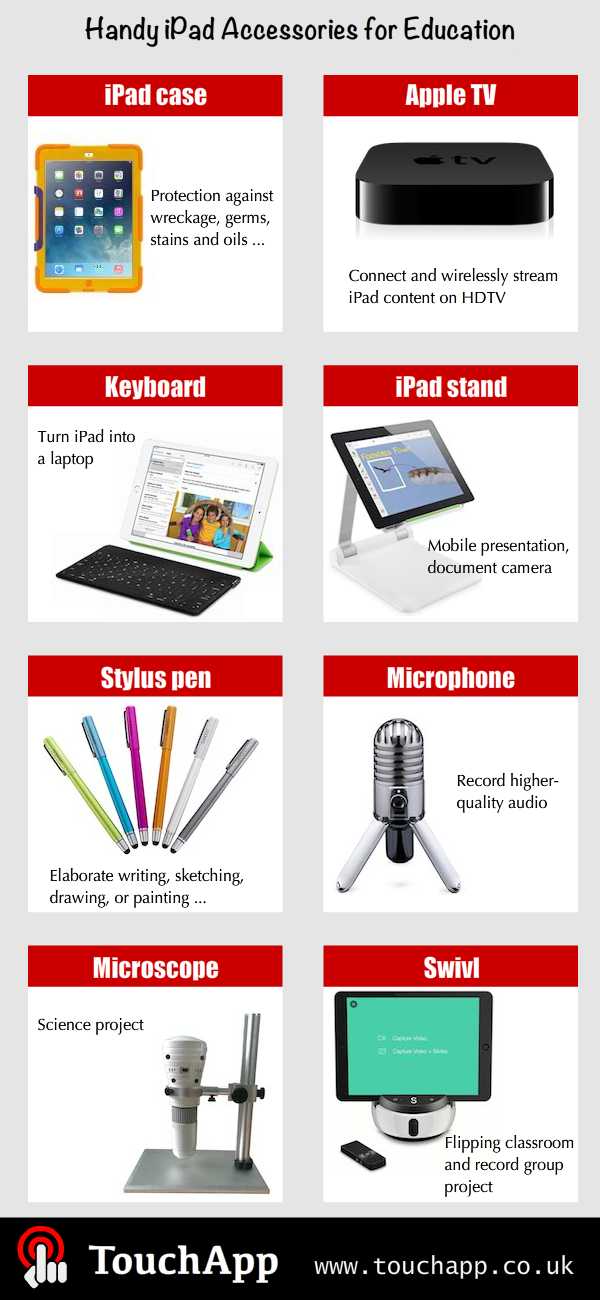 4. iPad stand
An iPad stand can turn your iPad into a connected mobile presentation tool. A portable stand such as Belkin Stage or JustandGo has an adjustable platform to hold your iPad securely. You can easily share what's on the iPad screen with anyone at your desk. An iPad stand can also position your iPad camera at an ideal angle to focus on a page, document, or other object.
5. iPad stylus pen
Although a stylus is not necessary for writing and sketch on your iPad, a good-quality stylus can be an invaluable tool for more elaborate work. The iPad screen is not pressure-sensitive, but some Bluetooth styluses augment the iPad screen's sensors with Bluetooth low-energy technology, thus acquiring special features, such as pressure-sensitivity, smaller nib size, and palm rejection etc. You can find iPad styluses in all sorts of shapes and sizes, popular ones such as Jot Script by Adonit, Bamboo Stylus solo or Intuos Creative Stylus enable you to use iPad for writing, sketching, drawing, or painting.
6. External microphone
An external microphone can help you record higher-quality audio than what you can get with iPad's built-in Mic. There are some high-end iPad specific microphones available in the market, but a reasonably priced USB microphone such as Samson Meteor Mic will do the job as long as you have an USB-to-iPad connector to plug it into your device. You can encourage students to record music or voices for video productions and podcasting.
7. Microscope for iPad
Educators can combine popular technology with science project using a microscope for iPad.  One of the best choices is Vividia Wi-Fi Wireless Handheld Digital Microscope. As a wireless model, it can easily connect with iPad after installing its Free App from Apple store. It delivers a maximum magnification level of 500x and can capture images and view live videos. Hamilton Electronics Digital Microscope is another high-resolution digital microscope for iPad. It supports different devices (iPad, Mac/Windows etc.) and provides 4 bright white LEDS power illumination system for poor lighting conditions.
8. Swivl
Swivl is a robot, which can turn your mobile device into a camera assistant. After you place your iPad in the Swivl, it can follow you as you move around the room and capture your presentations or focus on whiteboards. The remote also contains a wireless microphone to enhance the audio quality. Swivl is the ideal tool for flipping your classroom and also can help students to record group project without anyone left out of the video.

Follow us on Twitter: @TouchApp_uk


From Mobile App development company TouchApp