Being the #1 blog platform, WordPress not only powers almost 19% of the entire web, but also and has come a long way since its original blogging roots. WordPress is easy to use and can be shaped accordingly, thus it becomes a valuable platform for education and training. WordPress if used for any training project should be specific for a defined audience, and then to particularize objectives for them. Designing aim can be challenging, but it is fundamental to travail any teaching. The objectives depend upon whether the purpose is to change informational content, behavioural change, knowledge acquisition and mode of learning.
The following recommendations to use WordPress need to contemplate.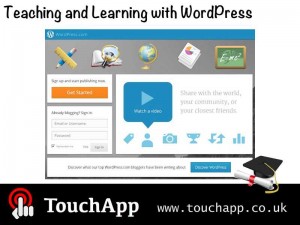 Dashboard: It gives a quick access to the most used areas of administrator's blog and gives an impression on other areas of the WordPress community delivering eight modules related to it.
Host and Domain: A domain name and a host for your site require time to think as got many options. A popular shared hosting program like HostGator, specific host or shared host can be selected to start up.
Theme and Support: Theme selection is an important task to choose something that won't be limiting and reflects your and accuracy level of the content delivered. It gives you a wide range of options to select an exciting theme o engage your audience. Buying a premium theme after reading reviews and researching, apart from the themes present on word.org seems to be more useful in the long run as they are advantaged with with support.
Plugins and Widgets: Plugins add some extra functionality to the WordPress with is not inbuilt in it. Research about contact form, features, multisite compatibility and a custom login logo before purchasing added plugins. Premium plugins come with support to combat any snags along the way. Widgets provide a simple and cosmopolitan way of giving design and structure control of the WordPress Theme to the user.
You also need to consider the distinctive features which makes it appropriate to use in education sector.
Effective: One of the main reasons so many people use WordPress is its power. Whether you need it to manage class rosters and assignments, or host videos and projects. WordPress can manage most of activities you do in class replacing Google Docs using Buddypress and helps in directing assignments, demo practical videos, projects forum discussions, walls, profiles, and direct messaging.
Accessible: Although many programs are impressive but can be ponderous and hard to understand. WordPress is very easy to navigate get started and create with simple layout.
Flexible: It has a wide range of functionality allowing to target different platforms with modifications with plugins like blogs, personal websites, portfolios, photography and video sites, business and corporate sites, as well as group and multi-user sites.
Update: WordPress is a dynamic feature focusing on improvement and releasing updates, keeping up pace with current technology trends and new ideas.

Follow us on Twitter: @TouchApp_uk


From Mobile App development company TouchApp