The use of tablets in the classroom for improving the learning methods has endless advantages not only for the youngsters but also for the whole society mentored by educators. It has entirely different impact and the kids of the current generation use these digital devices more often compare to their parents and teachers in earlier times, the assumption is unexamined kids will misuse mobile technology. There are certain measures, which should be understood fully when considering tablets for children and teens in the classroom.
1. Economical concerns:
Kids have a tendency to throw and break things around them. The ultra modern tablets lightweight and thin are fragile to use. In classes they are required to be used daily, for long periods of time, and moved. So, if they get broken the invested money for their repair or replacement would be high. A solution to this problem is to buy a hard case or before tablets are handed out certified to some authorized standard. Another solution is "kid tablets" which are specially designed for younger children e.g. LeapPad range is aimed at kids aged 3-5, at very low prices are made by the suggestions to overcome breakage and cleaning problem. These tablets can usually be bought during sales in good offers.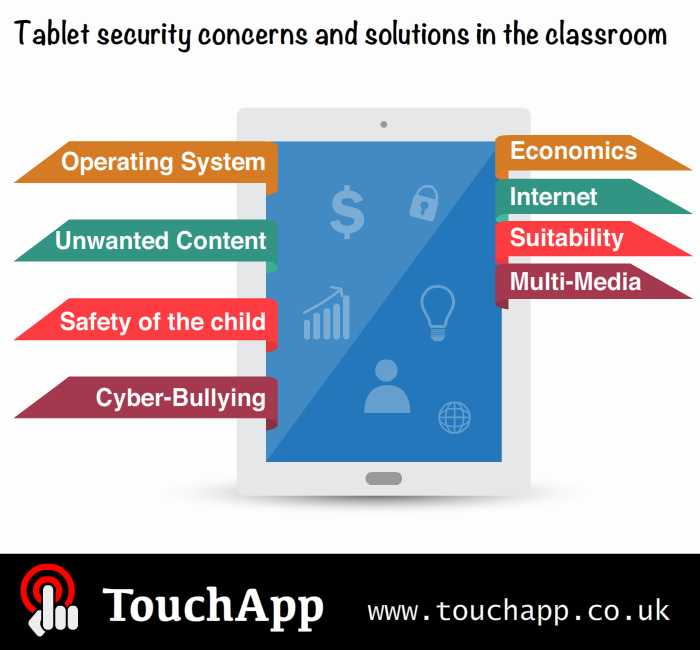 2. The Suitable Operating System:
For education, the right operating system is mandatory, so that the applications, which you want your kids to use, need to be compatible with the system. Google Play on the Android operating system has hundreds of thousands of apps on Jellybean but not on older versions, Apple products run on iOS, and offer less free Apps than Android, but many high quality educational apps are only available for iPad.
3. Internet connection
Teachers should have control of the Internet use to make sure the children who are given tablets to use in schools do not end up browsing the web all the time. Actually children are being distracted when the device is new with the period of time these issues are subsidised.
4. Multi-Media Apps and Programs
Multi Media can be used with educational concept and many learning apps and online resources make it an overwhelming experience on the subjects to students. They do not learning superficially instead help students to learn and engage with subjects. However, it requires lots of memory. You can combat this by "top up" gigabytes with a memory card but this option is not available is all the tablets.
5. Unwanted Content
Tablets open up everything for the students, even unsuitable or dangerous websites. As tablets are portable its difficult to control them than on a PC. The app such as Android Parental Control limits the types of apps that kids can access. The "kid tablets" usually have built-in security features limiting the content that can be downloaded and preventing the exposure to non-healthy websites.
6. Suitability
The vague knowledge of how exactly it can be used for kids to do "educational stuff" can lead them to a wrong direction. The proper usage of tablets should be known rather than just misconceptions. It is not about random educational apps but curriculum-focused apps are downloaded for a relevant training to excel in the school. Instructions should be given to kids about the apps they need to download for particular lessons.
7. Safety of the child
The security issues, is the major concern for parents and teachers. As kid can be an easy target by thieves thinking tablets are quite similar to iPods and smartphones. But research studies showed opposite results when no such incidents were reported. Actually the devices are quite small, and easily fit into backpacks, students are also instructed to not to take them out in public places.
8. Aware of Cyber-Bullying
Children generally use apps related to lessons in the schools not the social networking site to interact with unknown people. Teachers should have authority to monitor the students working on tablets keeping an eye on the student progress and keep track of whether students were completing homework. Parents and teachers should give clear guidelines to kids to tackle any situation or misdeed, if strangers approach them, or bully. 

Follow us on Twitter: @TouchApp_uk


From Mobile App development company TouchApp