The iPad is becoming an important educational transformation technology, and more and more schools are starting to use iPads in the classroom to improve teaching and learning activities. But many teachers find it difficult to get reliable information to guide them to set up and manage the iPads in an educational environment. Here we present iPad deployment strategy for schools:
1.Prepare for iPad deployment
Infrastructure (Wi-Fi) – In order to support successful iPad deployment within your institution, it is important to provide a consistent and dependable Wi-Fi network. Teachers and students need to access the Internet through the wireless network for iPad setup and configuration. You may also need to reset your firewall or web proxy to allow the connection of iCloud and iTunes Store.
Apple ID –It is the identity used to access all Apple services. You can sign up for an Apple ID at appleid.apple.com. For 1:1 iPad program or personal device (BYOD), users need to have their own Apple ID.  Institutes can create general Apple IDs for shared-use deployment. Apple also allows students under the age of 13 to obtain their own Apple ID with a signed consent from parents. Learn more about Apple ID for students under 13 at www.apple.com/education/it/appleid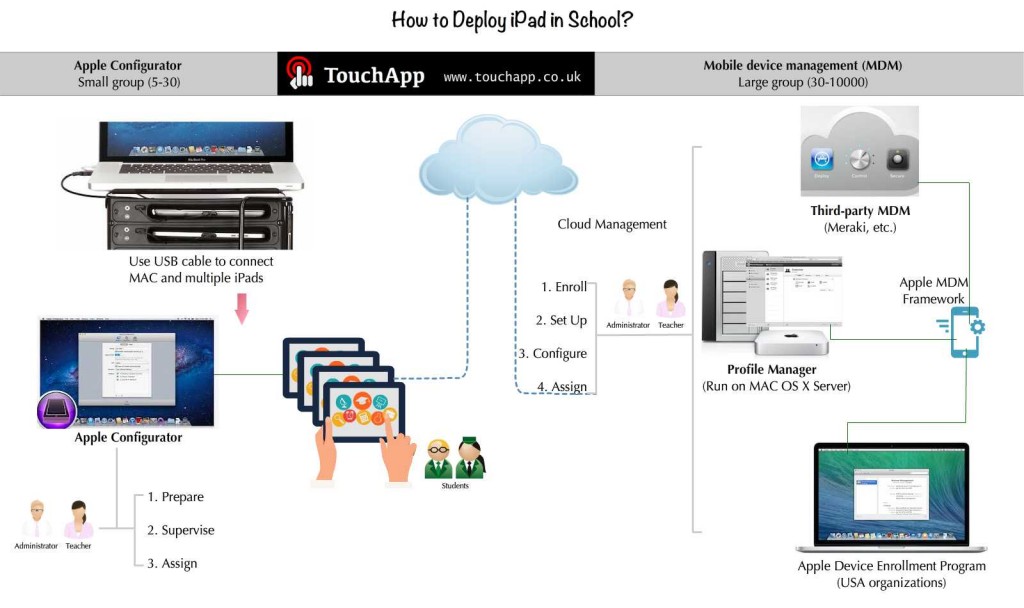 2. Use Apple Configurator for small group iPad deployment
For small pilot program or a classroom (5 to 30 iPads), Apple Configurator can be use to manage iPad deployment. Apple Configurator is a free Mac OS application from the Mac App Store (Not work on Windows, need use Apple Mac or Macbook). Administrators can use a USB cable to set up and configure multiple iPads, install apps, and manage individual settings through a specific Mac computer. Apple Configurator is ideal for scenarios where a consistent set of applications and settings across each device is required. Since the supervised devices are automatically restored to the same configuration at connection; Apple Configurator is Not appropriate for non-school owned personal devices management.
Learn more about Apple Configurator at help.apple.com/configurator/mac/1.4/#
3. Use Mobile device management (MDM) for large group iPad deployment
For large-scale iPad deployments, you need to have centralized control system called Mobile Device Management (MDM) to manage the devices properly. Apple provides a built‑in MDM framework to wirelessly set up and configure multiple iOS devices. You can set up school's OS X Server ($19.99) and use Profile Manager to remotely manage all the iPads in your organization. With Profile Manager, it is easy to distribute apps and books purchased from the Volume Purchase Program (VPP); and students can use web-based self-service user portal to enrol devices and download configuration profiles. It is also possible to use third-party MDM solutions such as Meraki (see complete list of third-party MDM at http://enterpriseios.com/wiki/Comparison_MDM_Providers) to enrol and manage all of your institution's iPads.
The MDM solutions usually can be used to mange student-owned devices for a BYOD program, since it is possible for students to remove content or services no longer needed. If additional restrictions such as forbidding modification of account settings are required for institute-owned iPads, you can combine MDM with Apple Configurator to supervise iOS devices.
Recently, Apple released its new web-based management service, Device Enrollment Program (DEP), for zero-touch configuration. DEP automate the MDM enrolment process and enable institute to achieve all levels of iPads management without touching them. However the service is currently limited to USA organizations and devices must be purchased direct from Apple.
There are other essential iPad tips for education, to learn more: "Display or Mirror your iPad screen on an external TV, projector, or display", "how to transfer files from a computer to iPad", "5 Great iPad Tips Every Teachers Should Know" etc.

Follow us on Twitter: @TouchApp_uk


From Mobile App development company TouchApp