Download it for your iPad Now: Magnetic Touch Board only for $1.99
Every parent wants his or her kids to love to learn. A passion for learning will help children's brain development and make them more successful and happier throughout their lives. Parents are always children's best teachers.  Books, school and even education experts can't accomplish what you can in the education of your child.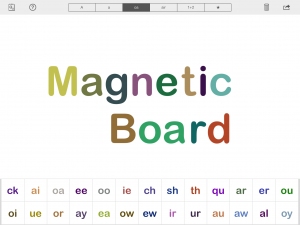 With the help of the new iPad tablet technology, it doesn't take much effort to inspire your children. iPad App Magnetic Touch Board is a great education tool to support parents and children's interactive learning. Unlike traditional magnetic board, Magnetic Touch Board provides unlimited letters, phonemes and other characters to use. Children can easily move unlimited colourful letters with drag and drop to make words or short sentences. With the phonemes available, it also encourages children to learn how to pronounce and spell. Magnetic Touch Board provides a great environment for early word recognition and beginning to read. It also equips with unlimited numbers and can help your children with counting and simple calculations. You can easily challenge your child to set up simple quizzes for testing and with lively stickers-like characters you can give a star to your child and put a big grin on his or her face. Magnetic Touch Board can also be a powerful app for teachers. Connecting the iPad with a projector, it can be directly used in a classroom teaching.
Magnetic Touch Board is a handy, engaging and interactive tool for parents and teachers to teach and learn phonemes, words and maths together with children using iPads. Enjoy and cherish every moment with your kids!
Download it for your iPad Now:  Magnetic Touch Board only for $1.99

Follow us on Twitter: @TouchApp_uk


From Mobile App development company TouchApp