Tablet computers are attractive, portable, ultimate personal electronic devices using the same operating system as mobile phones with the features of computers. Tablet becomes an influential educational transformation technology, and more and more institutes are adapting tablet devices to enhance teaching and learning activities.
The competition between Apple iPad and Android tablets perplexes the educators and they are struggling to decide 'Which tablet is best to enhance the pedagogy?' In an effort to help hesitating educators, here we compare some common features about tablet technology in education.
1.Apps
Apple's current dominance of the tablet market ensures it is the best place to attract applications developers. If you use iPad you can pretty much ascertain you will get any major apps with the latest updates for your classroom needs. While with Android devices, you may have to wait weeks or months for a specific educational app after the iOS version is attainable.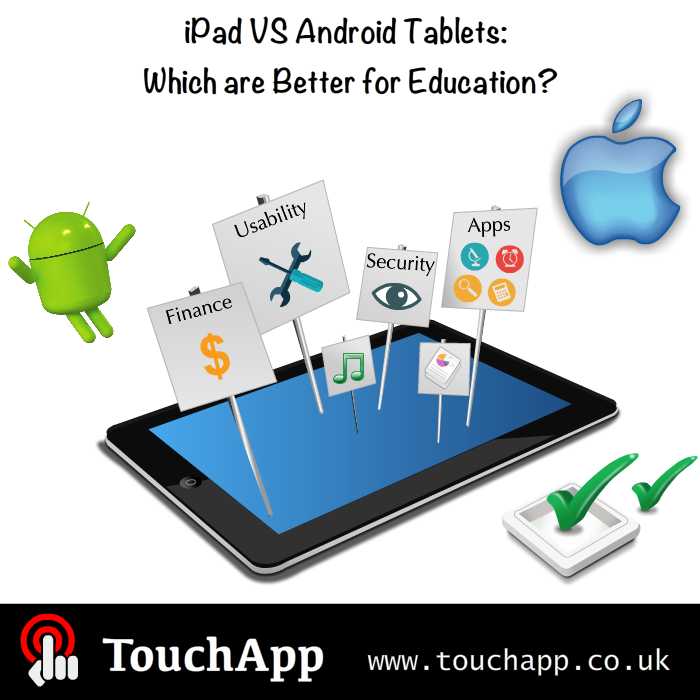 Another significant difference between iPad and Android is the way that the app stores are managed. Apple uses a closed ecosystem and approves each App individually to make sure elimination of bugs and viruses. On the other hand, Android use a more open model, anyone can release an Android app without approval and users acquire android apps through either an app store such as Google Play or by downloading APK file from a third-party site (although you should definitely consider hidden safety issues). It is probably fair to say that the range of Apple apps (for education especially) is currently significant larger and of better quality.
2. Finance
These tablet schemes in schools do appear expensive and the cost of device can be a very sensitive issue, which may hold the whole project. Retail price for the base model of iPad Air2 is £399 in UK ($499 in USA) and iPad mini3 is £319 (or $399).
You can have more choices when it comes to Android devices. Some of the current generation Android tablet (Sony Xperia Z3) costs just £159, although its screen resolution is lower than the top contenders. There are also high-end quality Android tablets with plenty of processing power available in the market. One such example is Google Nexus 9 tablet with a retail price of £319 (or $399). As the first tablet to run Android Lollipop 5.0, Google Nexus 9 should catch up with the latest updates and can do most things you want for a school tablet.
You may choose to purchase the less expensive devices to invest the saved money in other necessary IT infrastructure such as broadband, wireless, Mobile Device Management system etc. These are essential parts to support a tablet project in school.
3. Usability
Apple iPads tend to be more stable and easier to use than Android tablets. Apple's iOS system is upgraded and installed much faster and more effectively than corresponding Android system, thus apps on iPads perform better than on Android tablets, especially in areas like complex educational apps. Apple also provides a more secure and stable iCloud system to backup, synchronise and store users' data, therefore teachers and students can access all the content anywhere anytime. The support of iPads is more dependable and systematic than Android as well, and it is crucial for a long-term school project.
With Android tablets, it can be a little harder to figure out all the features of the system and tutorials and introduction workshops may need to be scheduled in advance for staff and students to get familiarize with the system. You can embrace Google Drive as the alternative Cloud system for teachers and students to share and collaborate online. In addition to 15GB free file storage space, Google Drive also provides some built-in apps such as Slides, Docs, Forms and Gmail, which are useful for educational purposes.
4. Security
Security aspects are essential issues for schools to think about before any tablet deployment project. Both the iPad and Android devices adapt protection settings in the operating system to prevent malicious attacks. But the gatekeeper control system of Apple means the iPad apps are more secure and free of bugs, malware and viruses. Android app stores rely on the users to report malware and eliminate them later, so you may expose to infected malware of running apps on your device. Google recently introduced Google Play for Education to resolve the problem. It provides educational apps been selected by teachers and guaranteed to be appropriate.
However, the open nature of the Android system offers the schools more flexibility to safeguard inappropriate content. For example, schools can use Mobile Device Management such as Airwatch on Android to lock down features and control misuse of non-core apps. It would be much harder to do so with iPads due to the restrictions of iOS system.
To date, iPad seems to still be the leader in the choices of tablets schools are investing in. But the growing maturity of the Android tablets may change the balance in the near future. Individual school should decide what the main goal is with the tablets and also consider how you could seamlessly intergrade your new fancy gadgets with your existing digital devices before making a final decision.  The suitable devices with better-supported ecosystem and more high quality tablet educational Apps (now and in future) will support you in working, teaching, learning and sharing in the long-term.

Follow us on Twitter: @TouchApp_uk


From Mobile App development company TouchApp