Despite the advancements in medical technologies, healthcare continues to pose all levels of challenges of complexity, affordability and accessibility worldwide. In contrast to healthcare access, mobile access is becoming almost omnipresent across the whole world. This provides a strong foundation for mHealth — the use of mobile communication for health services or achieving health outcomes. The traditional IT giants Apple and Google joined the race of the fast-growing mHealth with their own solutions.
Apple Health Vs Google Fit: What are they?
Apple released its iOS 8 with a mHealth app, called Health, to track, record and analyse your Health Data across a variety of metrics (fitness data, nutrition data, sleep patterns, cholesterol levels, heart rate etc.) with your iPhone. Users can customize their own health dashboard and create a digital "emergency medical card" with crucial health information for emergency health service providers.
To compete with Apple, Google also published its Fit app, which also centralizes health data through collecting information from third party apps via your Android device. Google Fit app uses smartphone's built-in sensors and can connect to compatible third-party gadgets and services. Google Fit app also built into Android smart watches such as Samsung Gear Live and Motorola Moto 360 to track your activates on-the-go.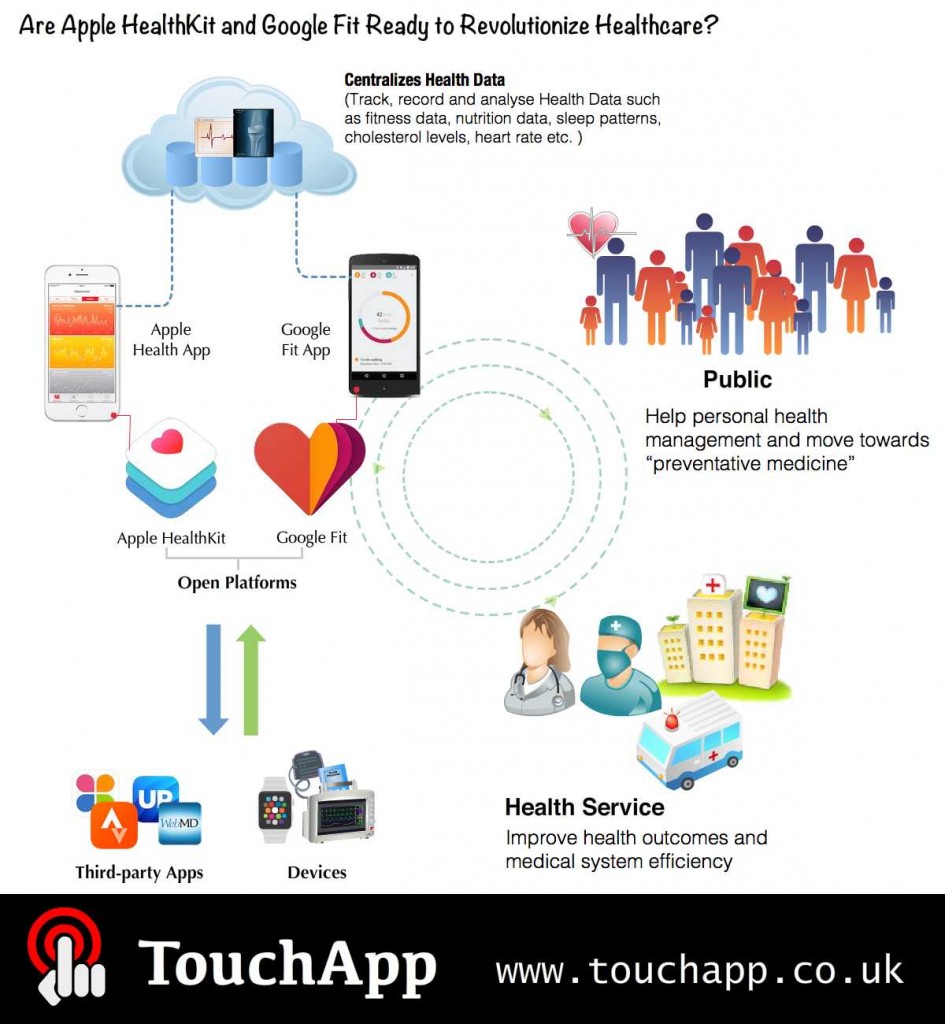 What apps will support them?
In order to achieve talent worldwide, both Apple and Google open their health platform to developers. HealthKit is Apple's tool for iOS developers to access and share your health data between apps. Some of the best health and fitness apps such as Jawbone's UP app, Strava, MapMyRUN, WebMD etc. have already integrated with HealthKit. It's important to note that Apple also enhance the partnerships with traditional health service providers such as NHS in the UK and hospitals in the USA to enter into health industry.
Google introduce its Fit SDK to its Android developer back in June 2014. Google Fit is an open platform allows third-party developers and devices manufacturers to connect and share health and fitness data. Apps and devices support Google Fit includes Withings, Runkeeper, Strava and Noom Coach etc. Google Fit attracts some large industry partners such as Adidas, HTC, Intel and Motorola.
Future and Concerns
Both Apple and Google describe their new Health/Fit platform as "the beginning of a health revolution". With the ability to connect to wearable devices, HealthKit and Google can capture data such as blood pressure, oxygen saturation and hydration levels etc., which are normally associated with health professionals. For example, Google is currently working on a smart contact lens that can measure real-time glucose levels.
With all the information collecting from the apps and gadgets about our state of health, it is quiet possible in the near future our phone will know we are unwell before ourselves. This may completely change the old patient pathway where we feel sick, see a doctor, get tests and receive the results. The new patient pathway will be completely different: since our phones constantly track our medical results, they can help us to book medical appointments automatically. As health information grows more digitized, it could lead to time saving and efficiencies of the whole health system and help the society move towards the more cost-effective "preventative medicine".
However, the promising Health/Fit technology also draws concerns from healthcare experts and public regarding data security, privacy and regulation. If all the personal medical records stored on smartphones and cloud, who owns the data has to be considered. Both Apple and Google haven't clearly demonstrated how they are going to protect confidential health data from commercial abuse. There is also a risk that people will misinterpret their own health data and even develop unhealthy anxiety over less than perfect dataset.
Tech giants as Apple and Google may visualize the future of healthcare in the form of mHelath, but all the significant barriers need to be overcome and strategic collaborations and partnerships with all stakeholders, including healthcare providers and government, need to be built to deliver an effective, accessible mHealth system.

Follow us on Twitter: @TouchApp_uk


From Mobile App development company TouchApp