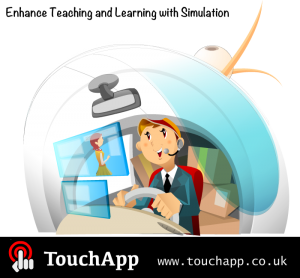 What is Simulation?
Simulation, which replicates substantial aspects of the real world in a fully interactive manner, is a technique to restore and mimic real experiences with guided ones in an immersive environment. As a form of experiential learning, simulation-based training comes in different forms. Sometimes they contain elements of games, an activity that acts as a metaphor, or simply a role-play. Examples of simulation include Board games such as Monopoly or Careers. Students interact with the "sim" context in a nonlinear way with controlled ambiguity. The purpose of simulation learning is to acquire knowledge and understanding, and not to win a contest.
Why teach with simulation?
Simulation is being adopted as a way of teaching because of the numerous advantages it brings to the learner. Some of these advantages include:
It makes more subtle aspects of a concept more appreciable
It is a motivating activity/experience
The principles of constructivism are attuned with element of reality.
It promotes critical and evaluative thinking
It makes learning more engaging and interactive
It provides opportunity to assess learners
How to use simulation in teaching
Simulation is employed as a way of driving home some key concepts in teaching. It makes learners able to picture the situation as though it were a real life scenario. With some parameters put in place, students undertake to solve problems, get used to issues that arise from their scenario, and also acquire knowledge of the unique circumstances that exist within the simulation.
In order to achieve your set objective or get the best result, the simulation must be guided by certain principles, which include:
Ensure the procedures are fully understood by the students before commencement. Proper understanding makes easier for students to enjoy the "sim" as they know what to expect and the limitation that may arise. This also helps to minimize undue interruptions once the project is started.
Knowing the mission or objective of the exercise. Everyone must know what is expected of him or her as they embark on the exercise.
Expecting questions before they are asked. A healthy learning environment is provided when the process is interactive. Knowing the questions students might likely ask and having a ready answer for them makes the exercise faster and smoother.
Simulation Training Technology
The development of visualization, hepatic and powerful computer technologies support the use of computer-based simulation for teaching and learning. Technology-based simulation training has been widely applied in fields of military, aviation and medical education, and its form has gradually evolved from basic screen-based case simulations into more complex virtual reality (VR) simulators and computer-enhanced mannequins.
Applying the immersive VR technologies such as high-resolution video and 3D imaging, VR-simulators can reproduce real-world variations and complications, and skills developed in VR training usually transfer well to the real-world experiences. For example, a number of universities use 3D representations of Linden Lab's Second Life virtual world to enhance practical experience of a variety of disciplines, ranging from science, medical and art to language training. Computer-enhanced mannequin is another type of simulator, which has been mainly used in health education. Simulated patients of real life-size displaying various computer controlling physiologic parameters can response to human interventions such as injection of virtual drugs, have proven invaluable for medical trainings.
Simulation-based education has opened up a new effective pedagogical pathway. It will continue to support competency-based education in the new technology era.

Follow us on Twitter: @TouchApp_uk


From Mobile App development company TouchApp