Would 3D printing truly become a part of every school in the near future? Time shall tell as the clamor for the use of 3D printers in education is getting louder. The possibility of teachers and students having a 3D printer on their desks seems more realizable now than ever before.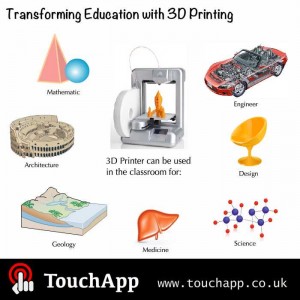 By providing low-risk, low-cost modelling approach, 3D printing has opened the door to revolutionise education. With 3D printing, it is possible to transform abstract concepts in science and mathematics into concrete (plastic) visuals to help students to understand complex structure quickly and clearly. New ideas can be printed out within minutes; student can design their own work and see the tangible products immediately. Students will be converted from passive content consumers into actively engaged inventors and control their own learning by doing.
Two students of Menlopark School, Pretoria, South Africa, Pieter Scholtz and Gerhard de Clercq (both 15 years old), have contributed their quota to the 3D world by building their own 3D printer, using a mobile phone app. This development no doubt, is a way helping African school in short supply of desktop computers to get access to rapid prototyping mobile. Another young advocate of 3D printing in education is 14-year-old Amy from the UK, who has been into coding and 3D design since age 11. Amy has gotten a lot of inspiration from the "Digital Maker" movement, which is a global drive to encourage young people to get creative with technology.
How students can benefit from 3D Printing
The introduction of 3D printing in education will make a lot of impossibilities a reality for students. Here are a few things that could be done with 3D printing in the classroom:
Mathematical shapes: with 3D printing, it would be much more easy for students to print mathematical shapes like prisms, cylinders, cuboids, etc
Architectural designs: 3D printing can also be used to bring to live complex architectural designs for students. With this, historical buildings can be printed and studied as 3D models.
Geographical terrains: geography students could easily create and print 3D terrains for lecture purposes




Science structures: complex areas of studies like DNA structure can also be modeled for students to have a visual display for better understanding.
Medical applications: medical field of study can easily be helped with 3D printing as body parts can be modeled. In addition, special medical applications like prosthesis, dentures, etc. can be modeled and printed when needed.
Improved communication: computer objects and prints are great ways to learn; but having a 3D model in hand creates better understanding of the subject being discussed or treated.
Creative thinking: 3D printing is a way of encouraging creative thinking among students as everyone is able to creatively bring to live objects or products that are almost unimaginable.
3D printing is the hope and future of academic learning, but it cannot be wished away with a wave of the hand. Governments, schools and investors must think of new approaches to make that vision of using 3D printing in education a reality now.

Follow us on Twitter: @TouchApp_uk


From Mobile App development company TouchApp