You probably have been running Apple's new mobile operating system iOS7 for a while now. The iOS7 system has been designed by reforming the ideas from various other operating systems and containing renewed user interface and massive exciting updates. Here are some iOS 7 tips and tricks to make your everyday lives a little bit more pleasant.
1. Make it easier for the eye
Not everyone likes the new iOS7 interface, you can adjust the interface settings in Settings > General > Accessibility. It allows you change the system text bold, increase the size of text in apps that support Apple's Dynamic Type, or invert the colours. Some people may suffer from iOS7 manner of motions or animations; you can ease up the motions in Settings > General > Accessibility and turn Reduce Motion on.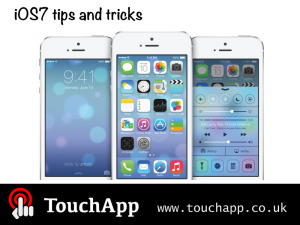 2. Create perfect wallpapers
As before you can change iOS7 wallpaper in Settings > Wallpapers & Brightness, but if you want them to look perfect on your screen, you need to make them the right size. Crop your images to the following dimensions according to your devices and your wallpapers will look just right.
iPhone 5/5C/5S – 1536 x 1040 pixels
iPhone 4S – 1360 x 1040 pixels
iPad 3 and iPad 4 – 2448 x 2448 pixels
iPad 2 and iPad mini – 1424 x 1424 pixels
3. Close multiple apps
Double-tapping the Home button and you will see all the Apps you have on the go and you can quit running apps by swiping them upwards. You can also try with multiple fingers to force-quit more than one app at a time.
4. Control Center
Swipe up from the bottom of the screen will display the Control Center and you can even access it from the lock screen. You'll find sound controls and some other utilities, like calculator and flashlight in the Control Center. You can also change to Airplane Mode or switch on/off Wi-Fi or Bluetooth in there.
5. Maps and location services
Great efforts have been made to improve the maps and location services on iOS7. You can flip between walking/drive modes in Settings > Maps > Preferred Directions. iOS 7  also track where you go to provide personalised features and improve the accuracy of Maps. You can find it in Settings > Privacy > Location Services > System Services > Frequent Locations. You'll see the list and map of your frequent locations. If you don't like it you can clear the location history and turn the service off.
6. Safari
Safari update allows you get real-time results while you type in the address bar from your Bookmarks, History, Google and Twitter timeline (with "@" symbol). If you concern about the privacy while browsing, go to Settings > Safari and switch on Do Not Track.
7. Find popular apps near you
Tap Near Me from the iOS7 App Store menu at the bottom and you'll get a list of the most popular apps in your current location. It can be a great way of filtering out irrelevant apps, and can help you to get local transport and tourist information apps when visiting towns and cities for the first time.
8. Find or lock your lost device
If you have iCloud turned on, remember to turn on the Find My iPhone feature in Settings > iCloud. You can go to iCloud.com and sign in with your Apple ID and password and locate your device and remotely lock it. You can change the device into Lost Mode to require a passcode to unlock it. You can also remotely wipe all of your personal data or display a message with contact details to try to retrieve it.
9. How to sort mail
Tap Edit at the top-right corner in the Mail app, you can select from a range of filters including Flagged, VIP, Unread, and so on. You can create VIP mail list by taping on the person you want to add and wait until the contact pops up and choose Add to VIP. You can add pictures or videos to emails by tapping and holding on the content of the email until options pop up and choosing Insert Photo or Video.
10. Siri
In Settings > General > Siri you can change various settings of Siri like to launch Siri by raising the iPhone to your face or change the gender of the voice. You can also tell Siri "that's not how you pronounce that" if Siri says something the wrong way. Siri can read your emails out to you as well. Just say "Read my emails" and Siri will give you sender, time and date sent, and the subject of each in turn. When asked if you want it to read out your mail, just say "Yes".

Follow us on Twitter: @TouchApp_uk


From Mobile App development company TouchApp