It's been nearly two months since Apple released the latest version of its desktop operating system of OS X, version 10.9 Mavericks. The OS X Mavericks was made available as a free update via Apple's App Store, but what about the new features and what does OS X Mavericks bring to education?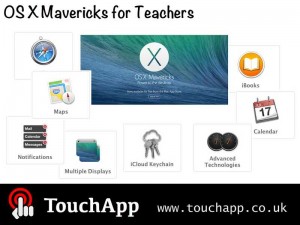 Efficiency: Mavericks is fast and just like installing new system or up gradation of a new version its works better and with high performance.
Primary Features: Memory compression is new which makes an easy switch between the applications like system resource heavy Adobe programs such as Photoshop, Lightroom, Premiere Pro and After Effects. These features will be added advantage to the people who never touch applications that consume system resources will like the proficiency rate of the system.
Durability: The users suggest that there is no difference to previous versions of OS X and it doesn't create any problem in the hardware of the system.
Utility: It works same as 10.8 version so can be used on systems for work, without the need of any consideration for and settings update and new drivers.
Battery: There is no need to charge again and again the battery life is good and gives you extra minutes in comparison to previous versions.
Virus worries: I would suggest you not to use Gmail and during new updates be alert with a few applications. There is a disc ejection problem reported by the people but a Western Digital My Passport drive will throw up this error when connected, but the overall performance of the system is not really affected and it works efficiently.
New features: To tag files and folders is convenient, and iCloud keychain is also good.  New apps such as Maps and iBooks, have been included and its smooth to use I mean if you want to change from one application to another feature you would not face any difficulties.
Fundamentals: A solid upgrade gives you a feel of new hardware being installed in your system.
With the use of new gadgets and online education system we are keener to tell you what features in particular it has for educators.
The iWork which is used in apple devices for Microsoft Office, Keynotes, PowerPoint and Excel, integrated iCloud and iLife for iPhoto, iMovie and Garage Band product suites are available for free now only on new devices, or if you had them. Else, the latest versions of each program in the suites costs $9.99 each.
iBooks can be read and downloaded for the very first time on Apple gadgets with OSX Mavericks.
The eBooks by top publishers like Pearson, McGraw-Hill Education and Houghton Mifflin Harcourt access can be gained to course materials and iBooks can be easily written with this latest Maverick. Apple's Maps app, which is useful for subjects like history and geography, is now available on Mac and could credibly be used with multiple displays. With OS X Mavericks, Notifications can be seen and replied without leaving the app that you're in, making multitasking much handy, without letting you to miss any important staff emails while you're putting a lecture slides together.

Follow us on Twitter: @TouchApp_uk


From Mobile App development company TouchApp