The microbial world is a realm of life made up of microorganisms and viruses. Although they are too small to be seen with the naked eye, they are intriguing and always full of surprises!  Using the most beautiful animations and informative images, biology App "Basic Microbiology Lab Techniques" give you an innovative and interesting way to learn the microbiology lab techniques through your smart devices (iPad or iPhone).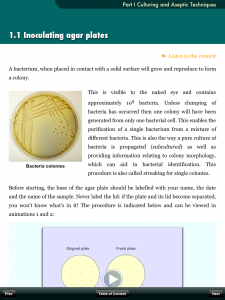 This well-designed biology science app presents you an interactive learning environment to grasp basic microbiology lab techniques from audios, videos and animations. Carefully designed interactive animations give you clear step by step introduction about how to prepare growth medium, how to use pipette, how to isolate microorganisms from environment and how to inoculate plate and broth….
It also gives detailed guidance of widely used basic science lab techniques such as serial dilution, how to use a microscope, how to use a spectrophotometer and many more.  For advanced learners in the field, it provides specific techniques such as gram's staining, biochemical tests, serotype etc. It will be a prefect resource to support student's lab learning or other lab trainings.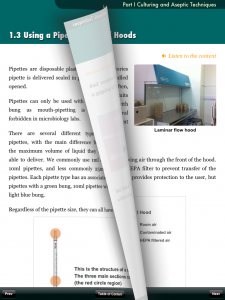 "Basic Microbiology Lab Techniques" also integrates video demonstrations to bring users an in situ experience of doing experiments in the laboratory. Related theories of the lab techniques have also been provided to help you learn the key science concepts of the field. All text contents are audible (real human voice), which helps you to grasp the correct pronaoucetion of microbiological terms.
Perfectly interweaving science, art and the latest mobile learning technology, it is definitely one of the best science biology apps in the market.
Download it for your iPad, iPhone or iPod Touch Now: Basic Microbiology Lab Techniques
Or have a look of the Free Lite version: Basic Microbiology Lab Techniques Lite
The full web version of Basic Microbiology Lab Techniques is available for schools, colleges and other institutes from £799 per year now. Please send an email to enquiry@touchapp.co.uk to get a free quote for your institute.

Follow us on Twitter: @TouchApp_uk


From Mobile App development company TouchApp