Smartphones are becoming popular and a symbol of fashion among youth of this generation, but it can also be used to make learning fun and tangible. Teachers are encouraged to embrace the sophisticated latest technology tool to engage their students with a hope to make learning strategies interactive. Computers can't be installed in all the rooms and in terms of portability smartphones are easier to carry than laptops so the use of these phones becomes an essential feature in this era of eLearning.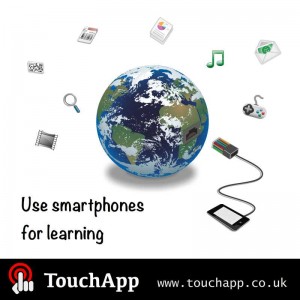 As a tool for academia
Smartphones can be used for educational purposes in a class to help students to acquire subject related knowledge.
 Apps such as My Writing Spot, Evernote, Dictionary, calculators and stopwatch should be introduced, as they are useful for most subjects.
 To test students' knowledge of specific subject polleverywhere.com can be used as a test tool.
Subject apps and websites like World Wiki, iAmerica, Biocourseware.com should be introduced to students.
Smartphones for Teamwork
Students can accomplice their essays through a Google Docs, and students can comment on each other's ideas.
 Let students to post the learning relative links of videos, websites, for a same topic would minimise the time as individual time is not required to allocate.
Voicethread can be used to check the thought process of the students.
When you take students for a field trip or active lesson on campus on go lessons can be given with Tripline.
Use Smartphones to Coordinate and counteract
FaceTime on the iPhone can invite external audience in a class discussion or learning activity.
Students can share fascinating and impressive articles to be known by everyone with their smartphones.
Play audios and videos about experiments, activities and other interesting things from school YouTube channel.
Social networking websites like Twitter and Instagram can be used to amplify the conversation and advertising the projects and upcoming events.
Reminders about important tasks and stickers can be sent through ClassParrot and Remind 101.
For Fun and leisure Time
During the assigned time for extra co curricular activities the smartphone can be used to know the hidden talent and shaping the hobbies of the children.
"How-To" guides can be created using apps such as SnapGuide in the beginning of any activity.
Blog writing can be encouraged by blog Post via the Blogger app.
For relaxation of mind apps like Nature Music or iZen Garden should be allowed giving them appropriate direction for creative tech tools.

Follow us on Twitter: @TouchApp_uk


From Mobile App development company TouchApp