With the revolution of technology in computing and mobile devices, iPad becomes an invincible charm and effect for school education. If students get to use iPads from the beginning, it increases their enthusiasm in the study. Everyone doesn't agree with the statement, some think it can be source of distraction and some have opinion that students can learn efficiently with paper and pencil. Some teachers feel they might lose complete control on their students. The teachers and parents should be responsible to make sure that students must understand the functions of the devices and their appropriate use in classroom curriculum and culture.
 
A set of guidelines for mobile learning are mandatory and they need to be set for a positive outcome. Students should be explained about the structure for broader concepts such as obligations, trust, citizenship, and respect. Some preliminary tests may be conducted to learn the skills and independent handling of iPads. Subsequently breaking the rules can result in withdrawing of license. There must be some activities, discussion and practical trainings for the students of different age groups to teach online representation and interaction. To organize apps for mobile learning, notes and projects on their iPads, they must be under similar supervision from the beginning and teaching standardized naming scheme for files and projects making them perfectionist and consistent. Identification of individual projects becomes hassle free and prevents overwriting pupil's work if they happen to use identical file names. The freedom cumulative to permission should be ensured allowing the students and the teachers to be aware of level of freedom. Software selection should be refined and filtered. Only necessary softwares like note pad, word processor, spreadsheet should be provided to start with. Teachers must attend workshops and conferences, before training students about iPads mobile learning and to use the technology persuasively like interactive whiteboards, multimedia projectors, electronic tablets, and calculators.
The plenitude of available apps can make getting started astounding. The teaching should be started with simple meaningful activities rather than asking them to understand complex apps like organizing Google Drive or Evernote to create digital portfolio. Students should be comfortable and compatible with the device, playing or discovering their own interests during breaks. Short video tutorials explaining specific apps, classroom procedures, introduction of faculty members, virtual tours of the building can be created by teachers. On the other hand to retain the interest students should be given tasks to introduce themselves, talk about their hobbies, families. It can be incorporated in the form of videos, pictures or documentaries.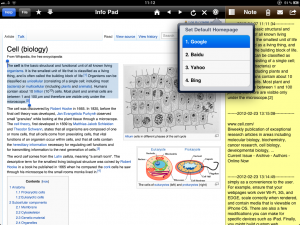 The strategies to teach for different age groups should vary. Young students, need much simpler methods with lots of concern like using speak selection to hear text might be introduced for newer concepts. iPad must be used as a creation device tools to authorization demonstration for knowledge and understanding, not to make things complex and sophisticated. It provides teachers with an opportunity to differentiate assessment, and to learn about their students, their skills and solutions to overcome their weaknesses. Older students could use utility app, such as Get Info to help organize materials from web pages or document files for writing and studying or create a voice-over PPT about a summer reading book using E-Lecture Producer.

Follow us on Twitter: @TouchApp_uk


From Mobile App development company TouchApp