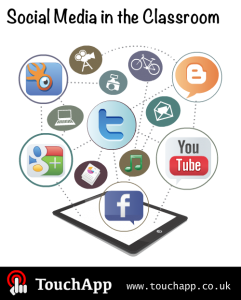 With more than 75% of today's youth possessing cell phones and more than 50% of them having access to smart phones, the internet is just a click away for the young generation. That means social media sites like Snapchat, Face Book and Twitter are now being used indiscriminately by these students even within the classrooms.
Though the statistics are uncomfortable to look at and many teachers want to ban access to such sites when students are in their classrooms, with some planning, these social media sites can be used effectively as a teaching resource.
The reasons are as under:
a) These sites encourage students to exchange ideas with their peer group and that helps the learning process. They would not be able to do so freely in the classroom.
b) Usage of tools like images can be done in a manner that is interesting and visually appealing. We all know the effectiveness of visual media in the process of learning.
c) When students take up jobs, they are expected to work in a team and collaborate with peers. Using social media early in their student life will help them develop this attitude and even introvert students will find it comfortable to share stuff in environments that are less personal.
But there are some risks or factors that also need understanding as below:
a)    Sites in social media make it easier for some of the students to bully their peers. A cyber study revealed that close to 20% of students have suffered such bullying from peers through social media. Cyber bullying remains a concern. But there are ways to counter this and teachers need to be equipped with resources that can help them prevent this trait among some of the more aggressive students.
b)   These sites can lead to a lot of waste of productive time. They can become a great distraction and unless teachers are strict about enforcing rules about the duration of their usage in classrooms, students may get distracted often.
c)   The internet is a medium that has a lot of content – useful and otherwise. It is also a place where scams, virus attacks exist. Teachers need to protect students by blocking some of the sites through effective software and make sure access is restricted to them during classroom hours.
As you would have seen, there are advantages and disadvantages to the usage of social media in classrooms. It requires diligent planning to harness the power of these social media sites effectively for the benefit of students.

Follow us on Twitter: @TouchApp_uk


From Mobile App development company TouchApp